Regular price
$74.00
Sale price
$56.00
Unit price
per
Save 24%
Sold out
View full details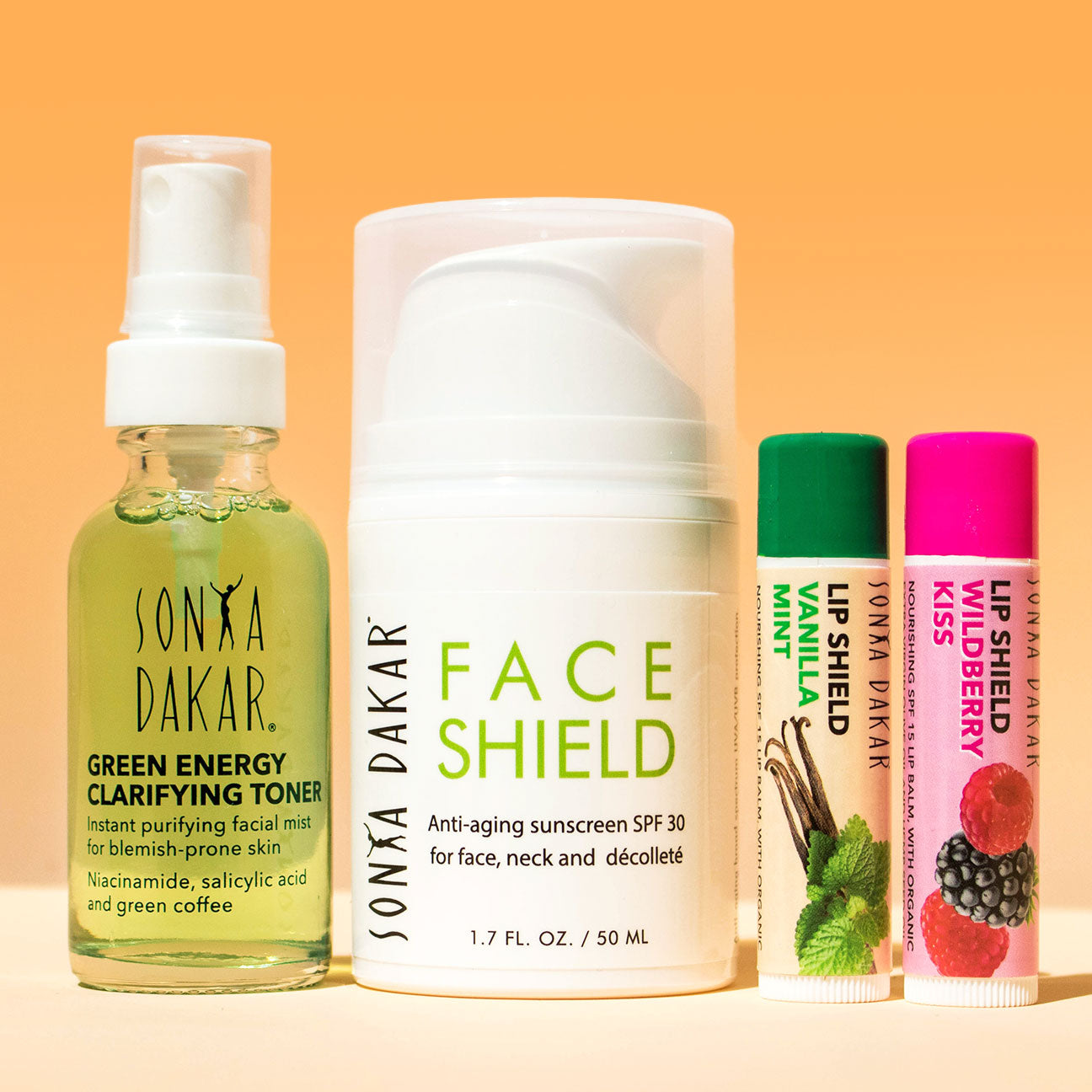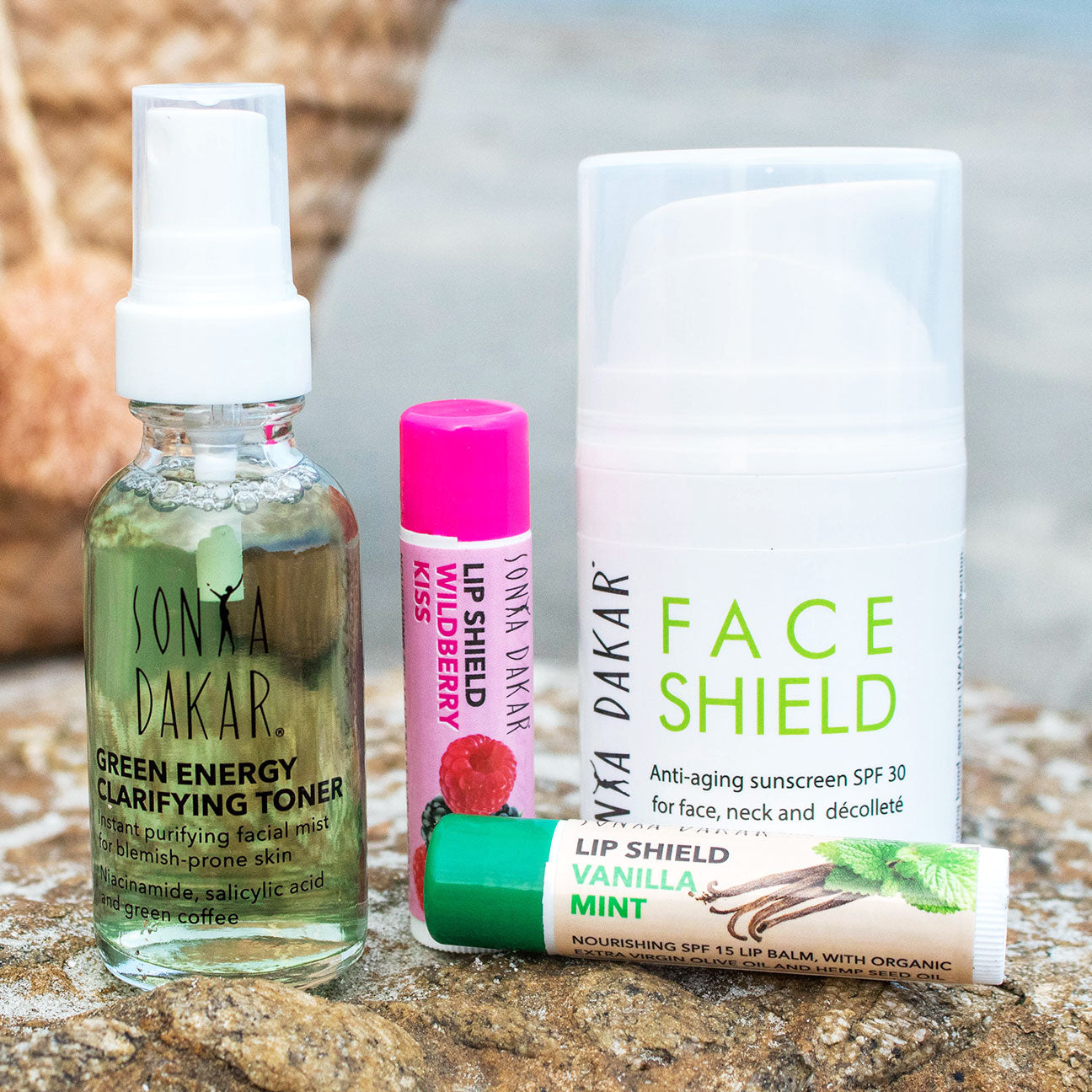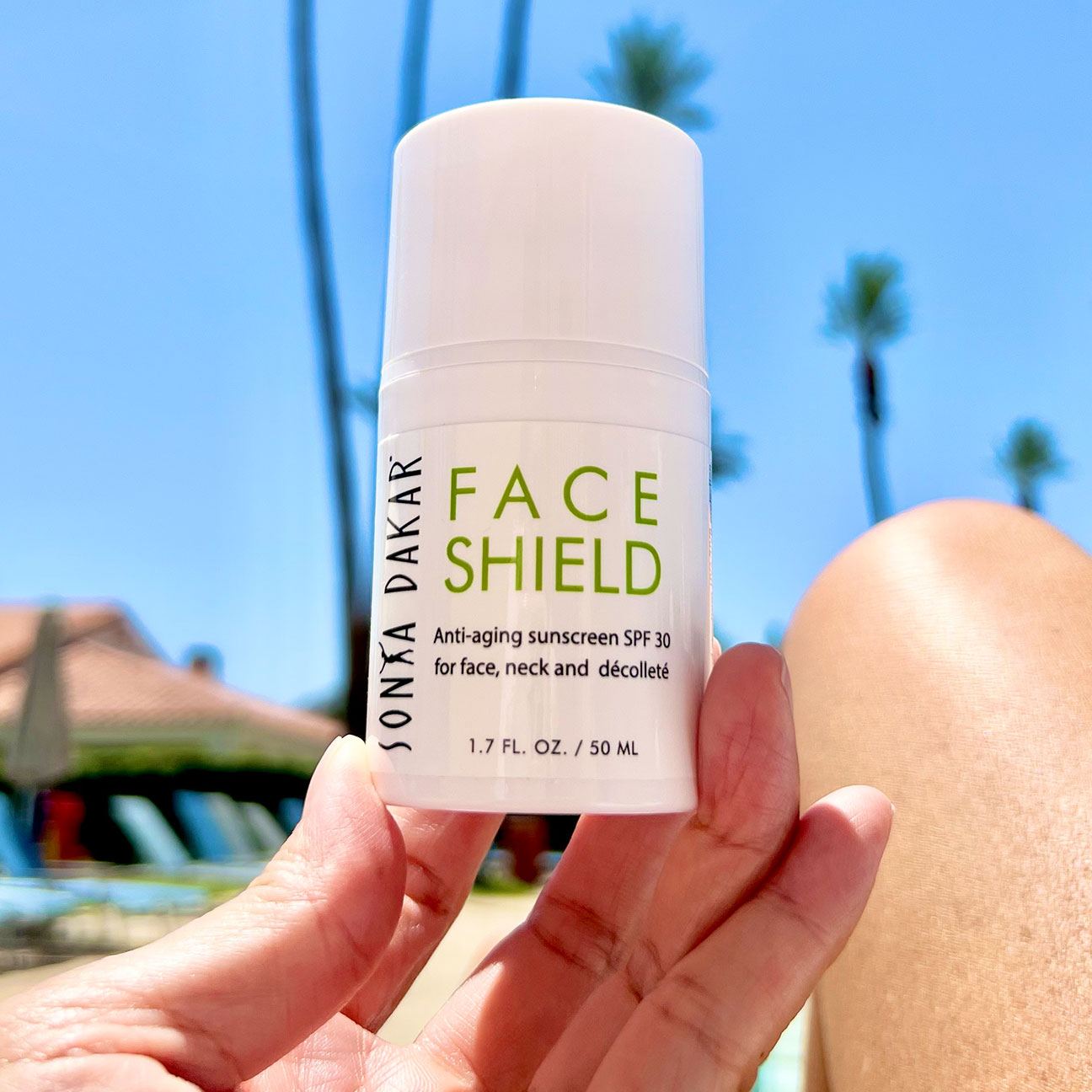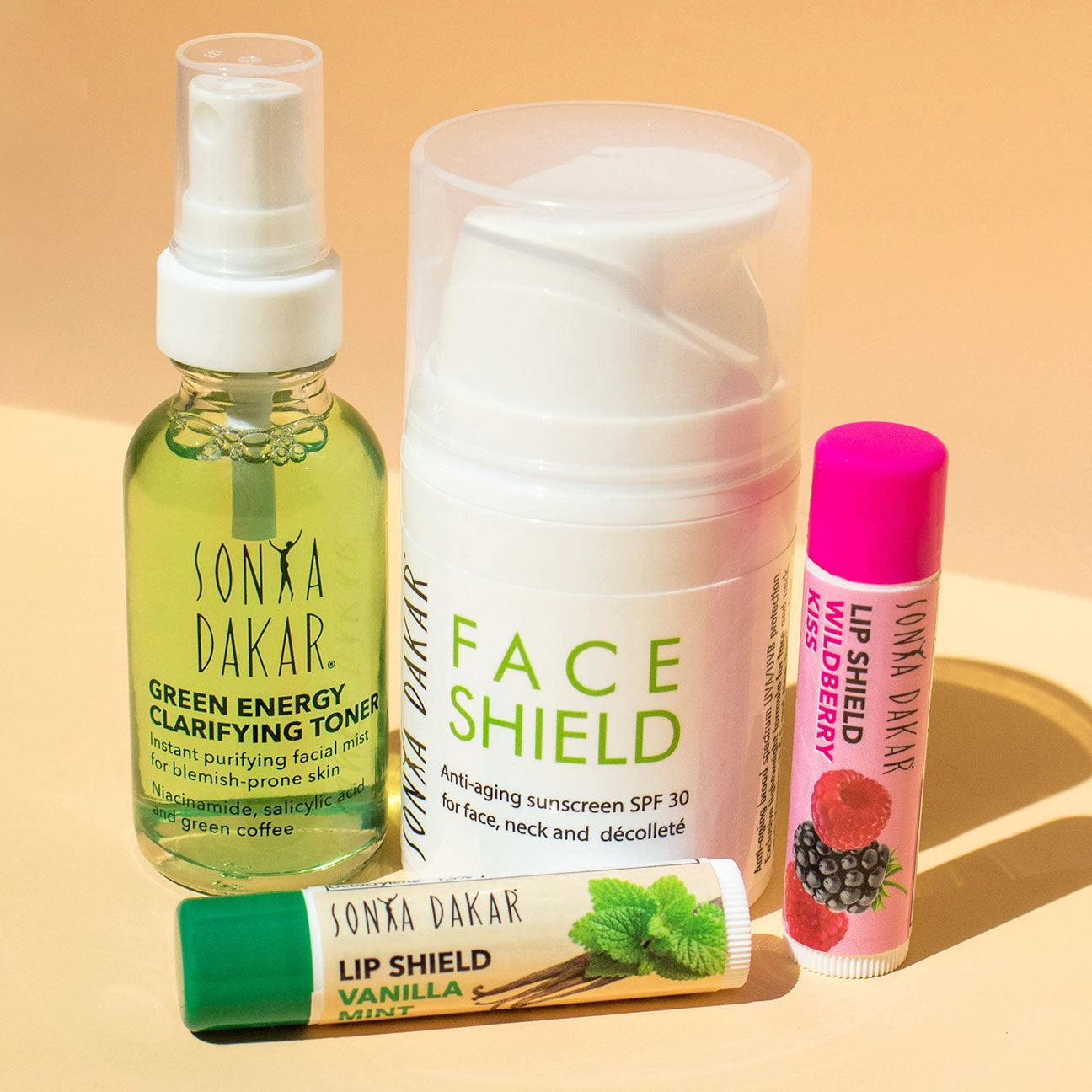 Travel plans? Grab this travel friendly set and keep your skin protected and hydrated. The Set contains:
Our lightweight SPF 30 Face Shield (1.7oz) utilizes advanced sun care technology to protect against dryness, and UVA/UVB rays that cause photo-aging, spots, and wrinkles.
2 of our bestselling Lip Shield with SPF 15 moisturizes, protects, and smooths the lips with extra virgin olive oil, hempseed oil and vitamin E shielding your lips from harmful rays.
Mini sized toner mist to keep your skin hydrated and refreshed all day long. Choose from Green Energy Clarifying Toner for oily/combo skin, Blue Butterfly Calming Toner for sensitive skin or Rubica Hydrating Toner for dry skin. (1oz)
Skin Type: Normal, Dry, Combination, Oily and Sensitive
Skin Concerns: Dark Spots, Fine Lines and Wrinkles, and Redness
BENEFITS
Lightweight
Non-greasy
Non-streaking
Moisturizing
SPF 30 protection for face and body
Paraben and lanolin free
Broad spectrum UVA/UVB protection
No artificial colors or fragrances
Ultra sheer photoaging protection
HOW TO USE
Apply sun block to face 30 minutes prior to sun exposures Reapply if there is prolonged sun exposure or excessive sweating For children under 6 months of age: ask a doctor.
FAQ
Face Shield provides optimal sunscreen protection for all ages and all skin types. Following are some common questions and answers regarding this natural sunscreen to help you more fully understand how it can protect your face as well as your body.
Q: Is this sunscreen appropriate for someone with sensitive skin?
Yes. Face Shield does not contain PABA, an ingredient found in many sunscreens which can be very irritating to the skin. Also, it doesn't contain any perfumes or artificial colors, which can also aggravate sensitive skin.
Q: Does Face Shield leave any greasy residue?
No. Face Shield is a completely non-greasy sunscreen. In fact, the formulation in this sunblock is ultra sheer and extremely lightweight. It readily absorbs into your skin as soon as you apply it. You won't feel any sticky or greasy residue typical of so many sunscreens available today.
Q: What level of protection will Face Shield provide?
Because this powerful sunscreen is meant to be used on the face and body, it contains four active ingredients to provide protection against both UVB and UVA rays. Face Shield contains an SPF level of 30, which means that it will block nearly 97% of harmful UVB rays. The American Academy of Dermatology recommends using a sunblock with at least SPF30.
Q: Sunscreen labels all seem the same; what should I check for?
Sunscreen used on the face should provide broad-spectrum protection from both UVA and UVB rays. While UVB rays are the cause of sunburns, UVA rays weaken skin's elasticity causing it to age prematurely. Both types of rays are linked to skin cancer. Face Shield contains 4 FDA-approved "active ingredients" which provide both UVA and UVB protection. This sunblock with SPF30 also contains aloe leaf extract for added soothing and cooling. As is the case for all Sonya Dakar products, Face Shield contains no parabens, lanolin, artificial colors or fragrances.
Q: Why do I need to wear sunscreen year round on my face and body?
Though common practice is to apply sunscreen on your face and body before lying by the pool, we must remember that UVB and UVA rays are always present, regardless of the time of year. Even during the cloudy days of winter, the sun still gives off harmful ultraviolet (UV) rays. This is why the Skin Cancer Foundation recommends daily use of sunblock SPF 30 or higher.
Q: Why is paraben and lanolin free important?
Many Sunscreens made for the face often contain parabens and lanolin. Parabens are a type of preservative used widely in cosmetics and skin care products. Studies have shown that parabens may have harmful effects on the endocrine system, and may be linked to breast cancer, osteoporosis and other serious health conditions. Lanolin, which comes from wool, has been known to irritate skin, cause increased sun sensitivity and other allergic reactions.
CALIFORNIA CLEAN
Every Sonya Dakar Innovation is created to be natural, effective, and good for the environment. Learn more about our commitment to clean products and a green planet.
LEARN MORE
Total 5 star reviews: 1
Total 4 star reviews: 0
Total 3 star reviews: 0
Total 2 star reviews: 0
Total 1 star reviews: 0
100%
would recommend this product
Love my grab and go

Love my grab and go sun shield kit~ Light weight sunscreen that doesn't feel heavy or greasy.
Reviews Loaded
Reviews Added